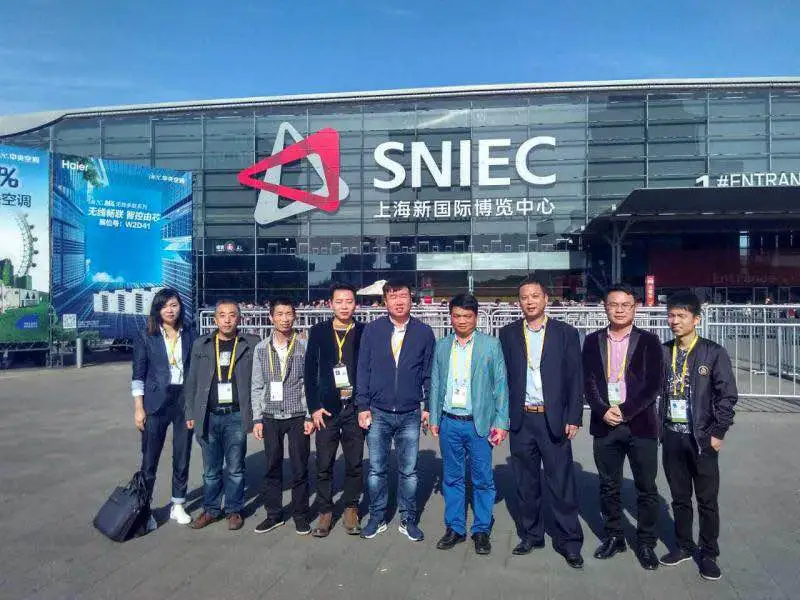 The 28th International Exhibition on Refrigeration, Air-Conditioning, Heating, Ventilation and Food Frozen Processing "will be held in Shanghai New International Expo Center from April 12 to 14, 2017.
The general manager of our company and colleagues from the technical department and the sales department were invited to participate in this exhibition. During the exhibition, we had friendly exchanges with new and old customers and introduced the latest series of fan products.
"China Refrigeration Exhibition" is co-sponsored by the Beijing Branch of the China Council for the Promotion of International Trade, China Refrigeration Society, and China Refrigeration and Air Conditioning Industry Association. It has two international certifications, the International Exhibition Industry Association (UFI) and the United States Department of Commerce (US FCS). In terms of service concept, "China Refrigeration Exhibition" has been adhering to the tenet of branding, specialization and internationalization, and has always been committed to expanding the group of end users and professional buyers on a global scale. The partners of "China Refrigeration Expo" are all over the world. Every year, professional organizations of refrigeration, air-conditioning and HVAC from all over the world gather together. "China Refrigeration Expo" means joining the cooperation network of the global industry and gaining unparalleled competitive advantages. The annual exhibition provides the industry with a high-quality exhibition and exchange venue and a global professional trade procurement platform, attracting more than 40,000 professional visitors and buyers from more than 100 countries and regions every year.
With the victory of my country's "18th National Congress", the Refrigeration Exhibition keeps up with the pulse of the times and vigorously promotes the concept of green energy conservation and environmental protection. The report of the 18th National Congress of the Communist Party of China clearly stated that the construction of ecological civilization is a long-term plan related to the happiness of the people and the future of the nation. It also reiterated the basic national policy of conserving resources and protecting the environment, and insisting on the policy of giving priority to conservation, protection, and natural restoration. Promote green development, circular development, and low-carbon development.
In 2017, "China Refrigeration Exhibition" is committed to promoting the healthy and sustainable development of the industry, reflecting the sense of social responsibility as the world's top exhibition.
The "International Exhibition on Refrigeration, Air-Conditioning, Heating, Ventilation and Food Freezing Processing" (abbreviated as China Refrigeration Exhibition), founded in 1987, has become the largest in the global refrigeration, air-conditioning and HVAC industry after more than 20 years of continuous development and innovation. Similar professional exhibitions.